When Robinhood launched its mobile app with zero-commission stock trading in December 2013, the demand was so high, there was an extensive waiting list to join.
Today, the company is practically a household name. Some other so-called "FinTech" startups have joined them, chief among them SoFi, the student-loan refinancer out of San Francisco.
But when it was just startups offering zero commission, it was easy to ignore. At first, these were small companies, without an established customer base, and with apps that appealed mostly to younger people.
But last Tuesday, on October 1, the field got a lot more crowded. That's when broker giant Charles Schwab Corp. (SCHW) announced that starting the following Monday, October 7, it would charge zero commission on all domestic stock and ETF trades.
Schwab has 12 million customers and manages $3.7 trillion in assets, so the company's October 1 announcement shook the financial industry.
Almost immediately, competitors TD Ameritrade Holding Corp. (AMTD), E*Trade Financial Corp. (ETFC), Ally Financial Inc. (ALLY), StockTwits, and Tradestation announced they too were removing commissions. Smaller online broker Interactive Brokers Group Inc. (IBKR) had announced their zero-commission service the week before.
Meanwhile, stocks of these brokers took a tumble, with Schwab falling more than 12% just over that trading day: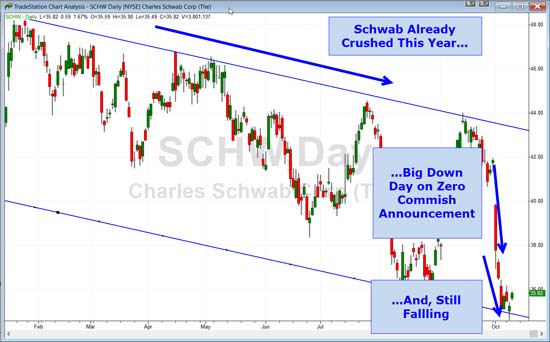 Now, for us traders, paying less in commission is always good. But as is often the case in life, there is no free lunch. What the brokers lose on commissions, they'll make up in other ways.
So before you leave your old broker to jump headfirst into a zero-commission offering, here's what you need to know…