I was in an interview on Cheddar TV two days ago, and I was asked a strange question. Cheddar is the live streaming financial news network that calls themselves "post-cable" news. The question: "How can investors approach market volatility due to geopolitical risks?"
What I didn't do was correct the host and say that markets aren't very volatile at all. That would have been bad form. But this chart shows the current reality on volatility: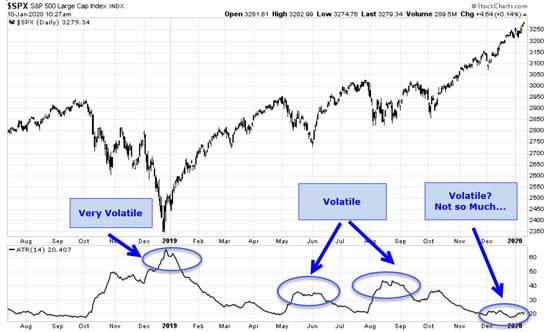 The lower line is the Average True Range – an indicator that represents how "jumpy" the market has been acting by measuring how big the daily moves are. In times when big daily moves are happening, like December of 2018, the indicator jumps much higher, as you can see on the chart above. Right now, and for the last couple of months, it has been very muted.
I did respond to the question by talking about how markets are actually shaking off those geopolitical risks and moving higher. I likened current market conditions to those in 2005-2006 and late 1998-1999 when markets brushed off outside news and kept trudging higher.